May 1, 2023
Welcoming new members to the Legion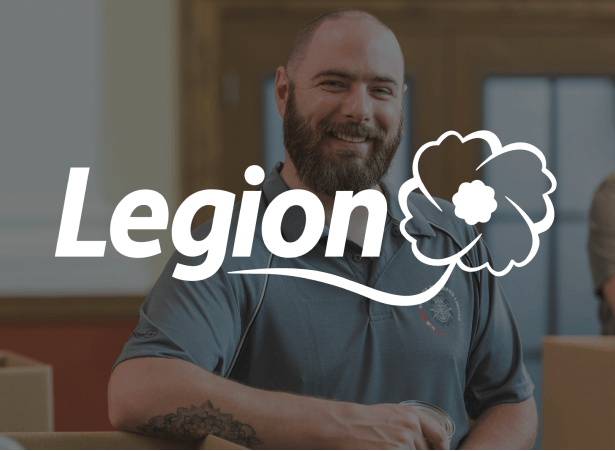 As a creative agency in Ottawa, we have a lot of experience working with nonprofit organizations. They come to us with different challenges related to growing membership, increasing donations, and raising awareness and we support them with advertising campaigns, graphic design services, marketing plans, messaging, and videos (among other things). It's a great opportunity to do good work and feel good about it.
One of our longest relationships with a nonprofit has been our work with the Royal Canadian Legion. They came to us in 2015 with the biggest problem a membership organization can have — they were losing members year over year. Between 1967 and 2013 they went from 950,000 members to just 208,000 members.
This is a problem that isn't easy to solve, especially with societal changes. Many similar organizations are losing members and cost of living increases mean organizations have to work harder to show the value of their memberships. For the Legion, there was the added challenge of public misperception. Many saw the Legion as just a social club, not an organization that offers a range of services and programs to Veterans, their families, communities, and youth. To grow member numbers, we had to correct misperceptions, increase understanding of the extent of the Legion's impact, and show Canadians how they could contribute.
Of course, changing misperceptions and reversing trends doesn't happen overnight. It takes consistent work that breaks through the clutter and reaches audiences in a meaningful way.
We began by creating a new website for the Legion in 2015. Following this new digital presence, we launched the first membership drive campaign that leveraged broadcast television spots, digital campaigns, newsletters, and a strong social media presence. All delivering a consistent message over a sustained period of time.
Each year saw progress in the right direction, and following years of working with us, 2022 saw the trend turn around. Over 240,000 memberships were processed for 2022, a 4% increase from the same time the previous year. It marks the first time in over 30 years that Legion membership has seen growth.
For some projects, there are quick wins that can have a meaningful impact. For a project like turning around membership trends for the Legion, it relied on a sustained and trusted relationship to bring about growth.
Working closely with clients to help reach their goals together is why we do what we do, even if it doesn't happen overnight.